Windham Commons
MORE INFORMATION
Site Map of Windham Commons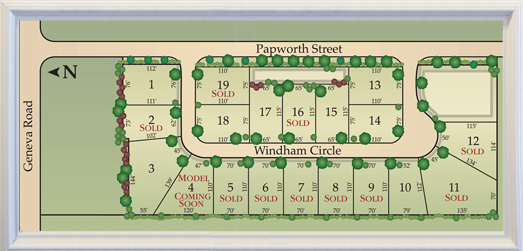 click for larger image
AVAILABLE HOMESITE PREMIUMS
LOT 1—Standard
LOT 3—Lot Reserved
LOT 4—Model for Sale!
LOT 8—SOLD
LOT 9—Contract Pending
LOT 10—Garden view, $15,000
LOT 12—SOLD
LOT 13—Garden view, Standard
LOT 14—Garden view, $10,000
LOT 15—Walk-out, $10,000
LOT 16—SOLD
LOT 17—Walk-out, $10,000
LOT 18—Garden view, Standard
Local Area Information
Windham Commons is located in the beautiful city of Wheaton, Illinois.
"Wheaton, Illinois, a distinctive community of 55,000 residents situated just west of Chicago. Residents and visitors are drawn to the blend of big-city comforts and small-town charm that makes Wheaton an excellent place to live, work, shop and play. From its top-ranked schools and picturesque downtown to its historic neighborhoods and dynamic community, Wheaton is a comfortable place to call home."
From the City of Wheaton website.
Directions to Windham Commons
Windham Commons is located in Wheaton, IL just off Geneva Road on Windham Circle, near the intersection of Geneva Rd. and Papworth St. East of Gary Ave and West of Main St.